Testimonials, reviews and recommendations.

Keith & Janette, Kings Heath 2018.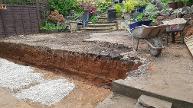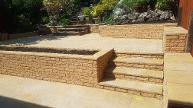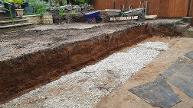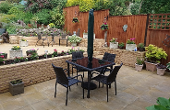 We would like to say a big thank you to Richard and all his men. They transformed our old patio from crazy paving,old brick walls, steps and the entry into something amazing. It is so much bigger, new steps, brick walls, they dealt with every request we asked of them nothing was too much trouble. They came every day and worked in such hot conditions as it is a sunny spot. We would recommend you to anyone , in fact we want another job done when you get the time, So thank you Richard, Jack, Rob, Dan, Paul, Matt and the three bricklayers, I have written this review as it helped me when I was looking for someone to do our garden , as you had such good reviews. Regards Janette and Keith from kingsheath.. 2018
Dear Rich,
Thank you for completing the work at Salisbury Road last week. Here is a small testimonial. If you decide you would like to use it for publicity purposes, we would be grateful if you would please not give the address beyond saying it is in Moseley and if you could just use my first name only, Stephen. You are however very welcome to use photographs of the house and some people will undoubtedly recognise where it is.

We are very pleased with the work that you did landscaping our drive. It has made a huge difference to the appearance and accessibility of our house and we are very grateful to you for starting work on exactly the day we agreed, for completing it thoroughly, well within the timespan that was specified, and for the sensitivity and care you took in explaining things to us before and during the work, gaining our agreement and making modifications where necessary as the project progressed. We were impressed with both the process of hiring you and with the final results, and would certainly recommend you and your hard-working colleagues to others. Thank you very much indeed.'
Best wishes,
Stephen Pattison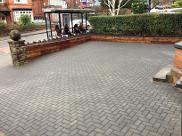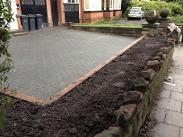 Dear Richard,
We had been contemplating re-doing our garden for a while and were rather cautious in how we would get a fairly large project completed. Upon meeting Richard he was extremely helpful and accommodating for what we wanted achieve and offered great advice on some ideas.
Richard provided a breakdown of all the work required including materials and stuck to it, while also making last minute changes to the plan for us with no fuss.
Richard's team arrived promptly each morning and worked quickly and efficiently especially as there was no way to get a digger into the garden. I was particularly impressed with how the team cleared up after them selves at the end of each day which makes a huge difference over a 3 week period.
The finish which was produced was fantastic and was truly a transformation. We would recommend to anyone looking for a reliable, trustworthy and hard working landscaper. should we need a landscaper the future we would definitely use Evans Landscapes again.
Thanks for the hard work guys.
Razia Kennedy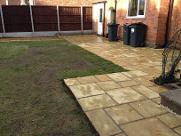 Dear Richard,
 
You made a super job of the garden. I couldn't be more pleased,
the workmanship was first class. I would recommend you to anyone.
 
Thank you very much,
Best wishes
Mavis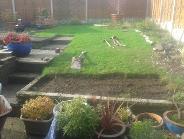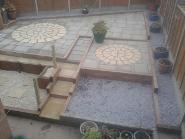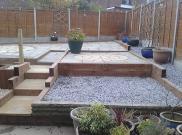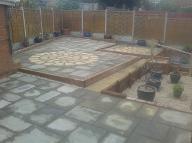 Kerry & Judy, Bearwood Jan 2018.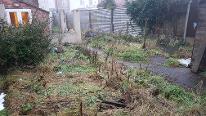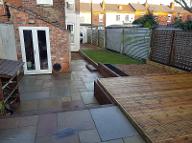 Evans landscapes are fantastic. Rich is very professional and he, Jack and the team turned our garden round from a mess into an amazing landscaped garden. The team were on time every morning and were hard working, nothing was too much trouble and they were very accommodating with last minute changes. Their quotes were also very competitive and Rich was upfront with all costs and broke it all
down nd listed all prices. Very impressed and so glad we used Evans landscapes as they went above and beyond.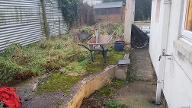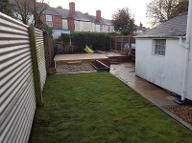 Kevin, Bartley Green 2017.

Hi Richard
We would like to say a very big thank you to you and your team. After struggling to find a landscaper that not only turned up but was reasonable priced I'm so glad I came across your website you were very professional and polite from the start you started work on our boggy mess of a garden and transformed into the garden we always wanted the lads that came were very polite and we're always on time and very professional so I would like to say a very big thank you to you all and would not hesitate to recommend you to anyone. All the best Mr K. Hodgkiss .
Hi Rich,
Just a quick note to say a big thank you for the work completed in Knighton Rd. The patio is looking great - I almost don't want to put anything on it because it might spoil the look! The finish is just what we wanted and the way it has joined onto existing hard landscape works well. Please thank the team who worked here because as well as completing on time they have left everything tidy and clean.
Also many thanks for sorting out problems caused by the skip, great customer service when it was not even really your responsibility.
Best wishes,
David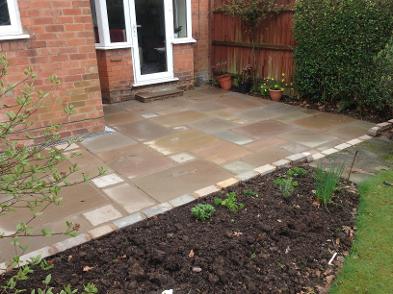 I would highly recommend Richard and the team. We had a lot of fencing replaced, two trees removed, new raised beds and paths constructed and the lawn graded and re-laid. Rich was very helpful to us in making the initial design decisions; the quote he gave us was detailed and completely adhered to; the work was done to the highest quality and exactly as planned; communication with us was spot on and the team were very friendly; the work was done on time; and, whilst it could have been very messy indeed doing this kind of work (especially in November), everything was left tidy and clean. We were very impressed and they will definitely be top of our list for any future work. Sally
Dave & Dawn Kings Heath 2018.

Just like to say rich, rob and jack have made a great transformation to my garden.they turned up every morning on time rob and jack are really hard working professional work men . First quality materials used and attention to detail met my satisfaction .every evening they would clean up and leave the place tidy especially as they had to come through my house to access the rear garden.I would certainly contact Richard again to do more work on my front garden ..thanks lads great work
Pete & Alexis, Northfield Dec 2017.

Thank you so much for our amazing garden makeover! I now have the garden I always wanted. It has been completely landscaped, with an old garage foundation removed, back patio extended, new path through the lawn, new decking and steps and new path to the side of the house. I also had the borders extended and shaped. The crew are friendly and work very hard. The quality of materials is excellent,
as was the advice on design. My garden is neat and now much easier to maintain. Hope to get you back to do the driveway for us very soon.

Pete and Alexis.
Simon & Kate Hall Green 2017


Hi Rich
We would like to thank you and the team for the fantastic job you have done with our new patio.
Having booked the work some five months earlier, we were really impressed that you kept to the agreed date, albeit (understandably) delayed by one day due to torrential rain.
Rob and Jack have done an amazing job, shifting two skip loads of rock, trees and roots by hand and then building the patio we had hoped for. They were always punctual, approachable and listened to what we wanted. The results speak for themselves. Their workmanship has been excellent and well worth the wait.
I would have no hesitation recommending Evans Landscaping to others and will definitely call you next time we need some landscaping work.
Thanks again
Simon and Kate Edmunds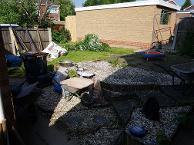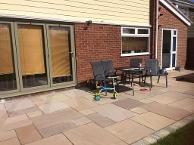 Rich and his team were excellent and really helpful throughout. Rich visited my property beforehand and I was very impressed with the time he spent going over everything so thoroughly and he had plenty of good ideas and vision of how to improve my garden. The quote he provided was also very detailed as well as very reasonable. The job was completed with minimal mess and on time. Nothing was too much trouble. I would not hesitate to recommend Richard Evans Landscapes.
John & Marion, Bournville 2017.

Hi Rich--here's my testimonial My wife and I are so glad we chose Rich to undertake the work at our bungalow. We first used them to replace some very old fencing with quality fencing, concrete posts and sleepers which we were very pleased about and was even commented upon by other tradesmen working on the site ! More recently Rob, Jake and Rich replaced our tired front drive and side garden with two separate parking areas and a new step up to the front door. We are very pleased with the work and Rob and Jake, who mostly worked on the project, were so hard working but equally were happy to explain how and why they were doing certain things and discuss our views on options. Thanks again
John
and Marion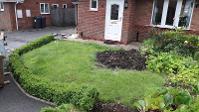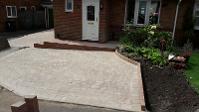 Block pave driveway
 
We had Evans landscapes block pave our drive.
Rich and his team were friendly, efficient and 
dedicated in the service they promised to deliver.
They provided a professional and  
courteous service from start to finish. 
Rich  talked through his plans and time scales.
Price is the best part. Nothing comes close.I couldn't
have chosen a better team who have transformed by front
garden into a block pave driveway.Will be having my back
garden done too. Another review will follow. 
I would highly recommend Evans landscape.
Very professional and sincere company,
Thank you all.
Sent from my iPhone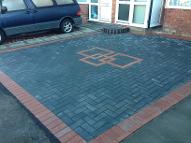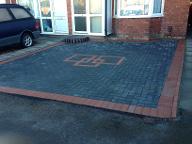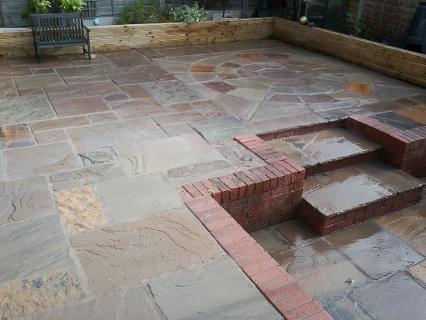 " We were very pleased that we chose Richard Evans to undertake our garden project. Richard worked with us to help us achieve the garden that we wanted sharing with us his ideas and experience. Richard provided us with a detailed quote which he adhered to. It was a pleasure to have Richard and his team working for us.They were punctual, tidy and treated our property with respect at all times.
We are delighted with the finished Garden and with the quality of Richards work and would have no hesitation in recommending him.
We now just hope for good weather so that we can enjoy it to the full."
Jo Frost Bournville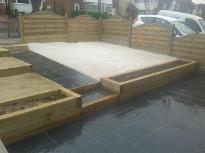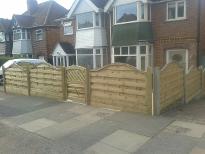 Hi Richard

We would just like to start by saying that we are delighted with our front garden. It is in fact better than we imagined it to be. We have received so many compliments from neighbours, passers by and even delivery men, on how nice the good is. Apparently we are 'showing the road up' one neighbour said.

Right from you coming out to discuss the work, to receiving the quote and the work being carried out, we were very impressed. We feel that you and the other two men who work with you are hard working, very professional and punctual. You were all friendly, polite, knowledgeable and always kept us informed throughout the work being carried out.

We would most definately recommend your company to anyone and we would choose Evans Lanscapes to carry out any work we may wish to have done in the future.

Thank You for making our front garden look so beautiful.

Nicole and John
Farren Road, Northfield
Neil & Amy's garden makeover in Moseley.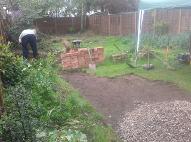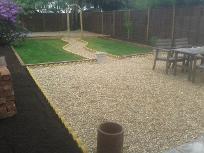 Hi Rich,
Were really enjoying the garden, thanks again for the great job.
Having previously installed a large decking area and new fencing around our rear garden, Rich recently completed his third job with us, landscaping our overgrown and very tired front and rear gardens. On every occasion Rich has bought to life the design and layout that we wanted and always provided us a reasonable and economical estimate using quality materials. Rich has never let us down, fitting us in to his schedule quickly and despite less than helpful weather finishing on time and with an excellent quality finish. Highly recommended
.Neil and Amy, Moseley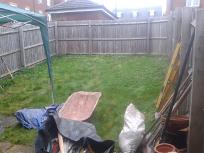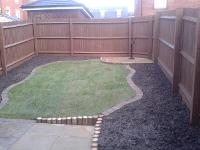 "Richard and his team are a pleasure to have around, they are very self sufficient and keep a clean and tidy working space. Richard has transformed my garden from a patch of grass to a decorative space that I want to spend time in. During the works Richard was open to discuss small changes and design options and nothing was too much trouble, his work is to a high standard ! I would not hesitate to recommend him to anyone"
Thanks again have a great Christmas and New Year!!
Keith Bowcott
Dovey Grove.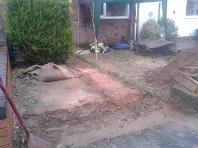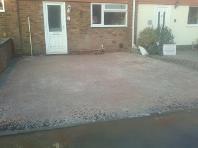 "We are absolutely over the moon with our new block paved drive which Evans Landscaping installed for us earlier this month.
From day one we found them to be approachable, honest and excellent value for money, especially after being let down and messed about by a number of other firms.
Rich arrived dead on time, discussed design options with us and within 48 hours provided us with a very competitive quote including a breakdown of all the elements which would be involved in the job.
Once works got under way, Rich and his team worked solidly all week through wind and rain to convert our old overgrown gravel front garden into a brand new block paved drive which has totally changed the look of our house.
We can't thank Rich and the guys at Evans Landscaping enough for all their hard work and would not hesitate in recommending them to anybody wanting similar work doing".
Luke & Steph, Hollywood
Thanks again
Dear Rich,
I am absolutely thrilled with my beautiful garden. The ideas you had were amazing, and its now been transformed from a shrubland to a contemporary peaceful oasis.
He worked extremely hard, and the workmanship and finish was perfect. I can highly recommend your company, as trustworthy, tidy and highly professional.
kindest regards, and thank you
Clare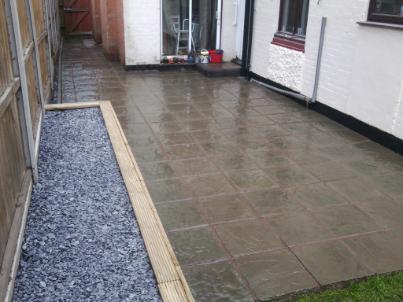 After years of battling with overgrown flowerbeds and brambles, in less than four weeks Rich, Rob and Steve have transformed our large back garden into an attractive low maintenance outdoor space that our whole family can enjoy.
The work involved clearing large areas of overgrowth and preparing it for a new lawn area as well as several areas of hard landscaping, borders and the construction of a shed.
Richard was happy to reuse stone and bricks that we had reclaimed from previous building work and helped us to source inexpensive additional materials that would blend in pleasingly.
He was also able organize the unusual shed design we wanted at a competitive price from his suppliers.
Richard has a good eye for aesthetics and he pays attention to detail. He was always pleasant and amenable, even when we were indecisive, and as the garden evolved we were able to discuss the specifics of each area till we were happy with the design.
Richard's quote was very reasonable for the amount of work done. As the work progressed, we added several extra jobs, which he quoted for each time (also reasonably) so we were always clear about the final cost.
Rick, Rob and Steve are all extremely hardworking, and were punctual, tidy and respectful at all times. We were amazed at how quickly the transformation took place.
We are very happy with our lovely garden and would happily recommend Evans Landscapes for good quality work at an affordable price and undertaken with a smile!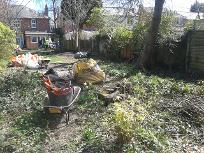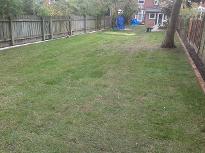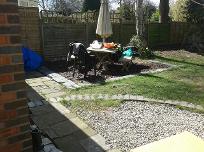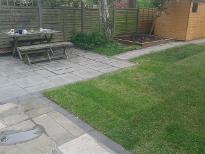 Marilyne, Druids Heath, Dec 2017.

Trustworthy, Fair an courteous...Called this company to patch in/extend my existing block paved drive, they did a fantastic job, I cannot fault them, the price was fair, the workers polite and courteous, it was a joy to have them work for me, and the workmanship is excellent. Totally recommend them. ....Marilyn Melville
"2 foot high garden now landscaped to easy maintenance wall finished and fence built, along the way additional jobs were added which were no issue to do. Done in time scale set and tidied up after himself ideas along the way. defiantly recommend. "Denise, Bournville (posted on freeindex sept 2011)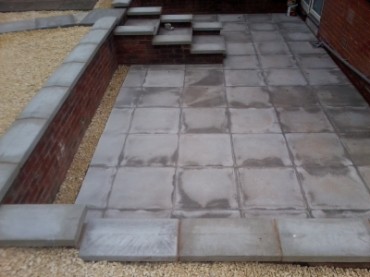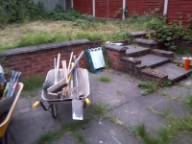 "Thank you for all your hard work, I feel like I have the best drive in the road now and thank you for clearing my back garden, it has been getting to much for me lately and I will be calling you back to help keep it that way, my son is relieved I have a garden I can now use and a driveway that is not only beautiful but safer for me now those uneven slabs are gone."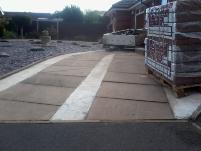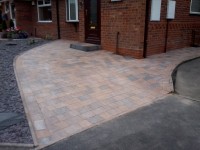 Hi Rich, sorry it's taken a while to get a review back to you. You can use the statement below as a review/testimonial... Rich and his team did a fantastic job creating a set of recessed stairs in a pre-existing wall in our back garden. All the team were very friendly, professional and worked in all weather conditions to get the job done. We couldn't be happier with the result and the service provided and will definitely be calling them again for any other landscaping work. All the best Ben
Hi Richard,

Just wanted to say thank you for the work you guys did before Christmas, you turned my garden into such a beautiful place that my granddaughter will love playing in come summer, thank you for being thoughtful and cleaning up after and being such a friendly bunch!
Feel free to put this on your website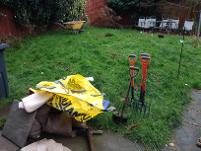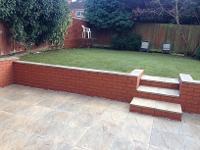 Steve & Anita, Druids Heath, 2015 & 2016.

Hi Rich,
 
Anita and I just wanted to drop you a quick email to thank
you for the work you have done on our front garden recently.
You have been brilliant from start to finish, and even put
up with our constant questions and changing our minds 
about what we wanted.
The transformation is amazing, and we are so chuffed with
how it has turned out.Totally changed the look of our home.
We have had no end of compliments from our neighbours and
passers by, and they even commented on how polite and
friendly your team were, and how you kept everything tidy
and cleaned up after yourselves constanly.
Daniel and Robert were fantastic, very helpful, and kept
Anita informed as to what was happening every day.No
words can explain how happy we are with your work and
professionalism and have already booked you in to
transform our back garden early next year.
We know recommendation is the best form of advertising, and 
will not hesitate to put your name forward to anyone who
wants any form of landscaping works needed.
Please feel free to use any photos you may have taken of 
our property, on your website if it will help.
 
Kind Regards
 
Steve and Anita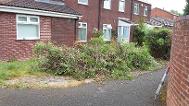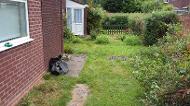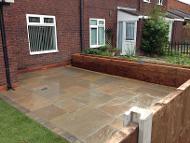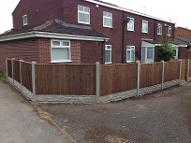 Mat & Sarah, Moseley 2015

We are very pleased with the work Richard and the team have done. The garden was a complete jungle and a trip to the end would require a compass and survival rations. We had previous contractors undertake costly landscaping that fell short of what we wanted. Richard came in this year and gave us a very reasonable price for the job and an aggressive timescale. He delivered both to budget and schedule. The end result is beautiful garden we all love to spend time in.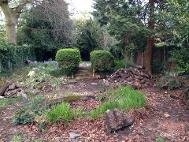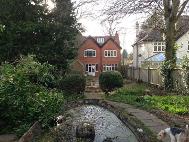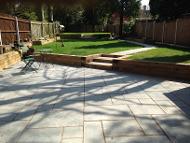 JIm & Marion, Harborne, 2015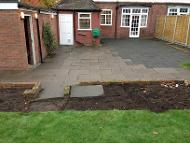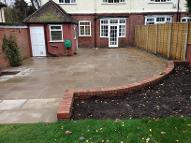 Richard,
 
A very big thank you Richard, Rob, Dan for the wonderful
job.
In just over three weeks our large patio area is now far
more usable. It drains really well. The team worked
exceptionally hard and overcame the wind and rain.
The project was well managed and they accommodated our 
extra requests. We would have no hesitation at all in 
recommending Evans Landscapes. A very professional job
and we are thrilled with the 
outcome.
 
Marian, Jim - Harborne.
Lauren& James, Northfield, 2014

Hi Rich, sorry this is so late but just wanted to finally send your Testimonial for the work you completed on our garden last year, feel free to use the photos if you still have them! My mum will be contacting you shortly for a quote for some work she wants doing on a property she is buying as well. "Our garden was in dire need of landscaping and I'm so glad I had a Rich to do it! He knew exactly what I wanted and we are really pleased with the results and have finally been able to enjoy our garden. Really recommend Rich for his professionalism, expert skills and value for money, a very reliable and friendly service that we wouldn't hesitate to recommend , you really couldn't ask for more as a customer!" thanks Lauren & James Murphy, Northfield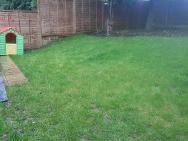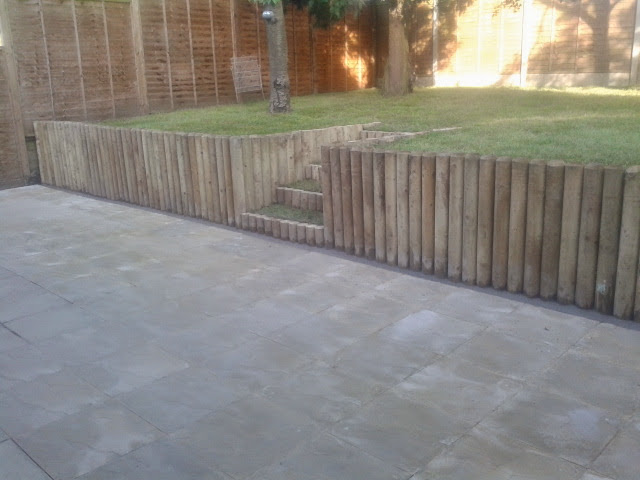 Mary, Stirchley, Dec 2013.

Hi Richard
I would like to say a big thank you for the work Yourself and Rob carried out for me on giving me a new Driveway and taking away the eyesore of the wall which you replaced with a complete new look.
One of the most important things for me was how professional you both were, how you always talked through what was happening, when I changed my mind on the plans you gave me your views and support on it, you both always arrived on time were very hardworking and pleasant always keeping me updated, It can be a big headache having work carried but i must say you both made this very stress free for me i am delighted that i choose yourselves to carry out this work :)
My new drive looks great, also my path and new wall, im so happy with it and i am looking forward to having my back garden done next year.
I would highly recommend Richard and his team to anyone who is looking to have work done
So many many thanks Richard and Rob a job well done :)
Mary
Marys' blocked driveway and walls, Stirchley, 2013.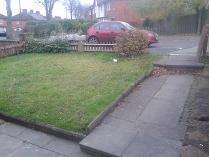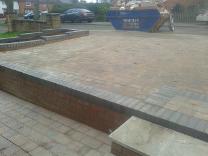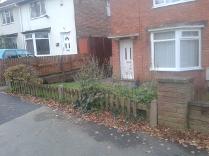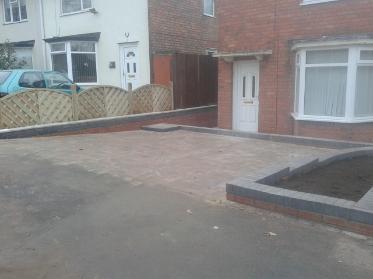 Rob & Anna, Selly Oak, front and back gardens.

Hi Richard,
 I am writing to thank you for the great job you and 
your lads did on ours and our neighbour front garden,
walls and pathways.
From the first rough ideas of what I thought I wanted,
you have had the patience to alter and change the design
to achieve the  final excellent result. I would have no
hesitation in recommending you to friends and neighbours
who I'm sure are as impressed with your work as we are.
 Best Regards,
 Rob and Anna Stokes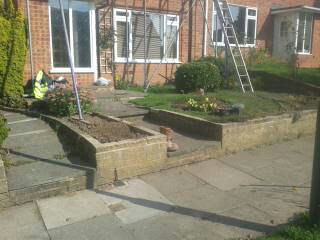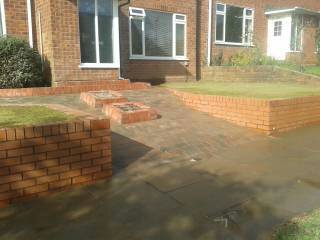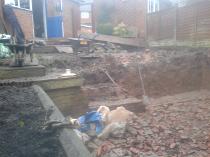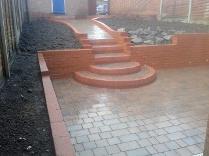 Hi Richard, I thought you may like to see the finished article. Only short of sunshine now. Regards Rob Stokes.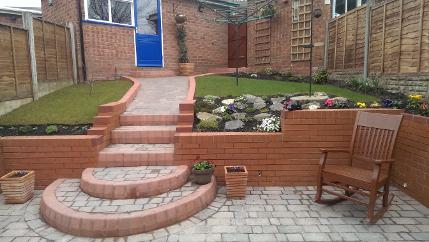 Richard came round 5 months prior to starting our garden due to him being full booked say's a lot! He gave me a good fair quote and had great ideas on what to do with the garden. When himself and his team started they were polite clean working, and worked very quick! In just 9 days they turned a rubble & weed filed garden in to something that has finished our home stunningly off ready for the summer. If you can wait the time probs minimum 5 months to get your garden done it's worth it! brill thanks rich!
I can heartily recommend Rich and the team. Evans have done a number of garden jobs for us, fencing, drive work and re-laid a patio. One of these was at very short notice and Rich managed to squeeze our job in which was hugely helpful. Evans really listen to what you want out of the project and are great at finding the right solution. The team have been so good - reliable, punctual, hard working and tidy. Rich is easy to get hold of and just great at keeping you informed from quoting through to start dates and throughout the project. Thanks so much.

Denise & Nick , Barnt Green.

Rich and the Evans Landscaping team have recently completed replacing a large fence for us. The job was not straight forward, due to our garden being on several levels, however, this did not pose any issue and the finished job is perfect. We were unsure of the type of panel we wanted/needed and Rich advised us on what would be in keeping with the garden, we are delighted with the choice. Rich and the team were very punctual and the job was done exactly on time, they worked very hard. They disposed of the old fence and left everything very tidy. I am very precious about my plants and they were very careful to work around them, in fact you would never know they had been here, apart for the beautiful new fence! I would have no hesitation in recommending Evans Landscaping. Nick & Denise Barnt Green.
Thanks a lot.
Denise
Richard Evans and his mate Rob come highly recommnded. At the start, we only had a rough plan for the work we wanted. Rich was very patient and helpful whilst we made our decisions, and the final result is brilliant. The old slabs relaid, matched with new ones, to extend the existing blocked patio, with the old blocks reused & recycled bringing everything together. A genuine pleasure from start to finish.

Cheers, Sue & Steve
I'm delighted I chose Evans Landscapes for my garden makeover and couldn't have wished for a better service. From the very outset, dealing with Richard was a complete pleasure. He provided me with a very competitive, detailed quote and fulfilled every aspect of it. All work was carried out to a high, exacting standard and I now have the fence, patio and path that I had hoped for. I am thrilled with the results, which are brilliant in every way. Rich and Rob were hard working, diligent and went that extra mile in order to transform my garden. Everyone who's seen it has commented on the quality of the workmanship and exceptional finish. Rich proved himself to be utterly reliable and trustworthy and I cannot recommend him highly enough. Definitely my "go-to guy" for any landscaping.


After putting up with a driveway with uneven and wonky slabs for umpteen months I called in Richard and his team to excavate, hardcore and blockpave it. After 3 and 1/2 days it was totally transformed beyond our expectations. I found Richard and his team to be hardworking, reliable and punctual. Their attention to detail was second to none, all in all we are extremely pleased with the end result and would recommend Evans Landscapes to family and friends.

Tony.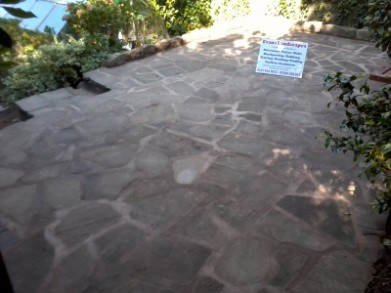 "Over the moon!You have completely changed the top of our garden, crazy paving is superb and the use of natural materials gives an original and authentic feel, your hard work has paid off...Thank You!"- Julian, Moseley, May 2011
Prompt, professional service. Well finished job providing garden fencing and driveway drainage. Would definitely use again.-Nicole, Longbridge (posted on evanslandscapes.freeindex.co.uk, July 2011)


"I have used Richard three times this year and enjoy the peace of mind of knowing I get a quality job from an honest hardworking landscaper"-Mary Castle, Quinton, July/August 2011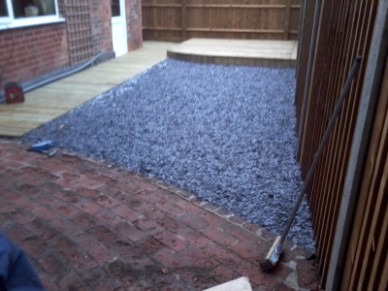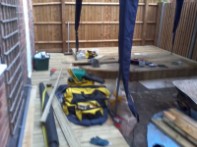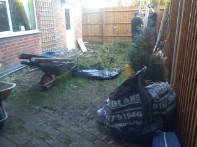 "Really pleased with the clearance and landscaping of our previously drab garden. Excellent job undertaken, including decking, paving and aggregate. Completed to high standard, with a friendly personal touch. All at a very competitive price.
> Highly recommended.
>
> Many thanks,
> Neil and Amy"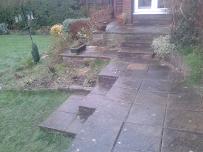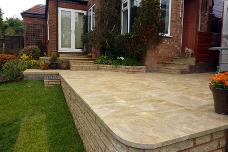 We are very pleased with our extended patio area and can thoroughly recommend Evans Landscapes. Rich gave us a good quote, which he stuck to, for a new retaining wall, steps, and slabbing on two levels. Rich and Rob worked hard and professionally as a team, and were very pleasant to have around. We were worried that they might not be able to proceed in the wet weather of the first week in March, but they just brought a gazebo and worked under that. Who would have thought that Rich could have ordered brilliant weather for the second week in March, and we have been able to enjoy lunch on the patio most days for the last week! It has much improved our garden.
Roger and Margaret, Harborne.
Free no-obligation written quotes

Recommended landscape gardener offering quality, local services to Birmingham, Redditch and Bromsgrove.

Malcolm Plants pond, Moseley, 2014.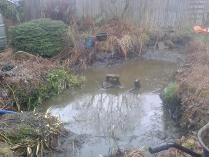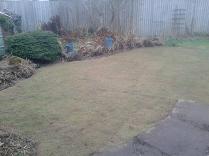 I would like to put on record the excellent work I have had done by the above company, the two workmen Richard and Robert were excellent, hardly stopping for a break all day. Thanks for a job well done.
Malcolm Plant.

Dorothy, Cotteridge, 2014.


Dear Richard, Thank you very much for our new fence! It was a prompt, tidy and professional job you did in our garden. I liked especially that you checked several times with me the layout/design of the fence. And your staff were brilliant, very friendly and just gone on with the job although it at least drizzled most of the time. Thanks again, Yours, Dorte